Why choose Total Webcasting?
More time
Our all-in-one service means less coordination and oversight for you


Peace of mind
Our in-house hardware and software solutions mean fewer chances for coordination or compatibility problems
The best chance for success
Our 15 years of experience mean you can rest easy knowing we've got you covered
Join our newsletter
Learn about the webcasting industry, keep up to date on technology that can help you put on extraordinary events, and be the first to hear about new innovations and offers from Total Webcasting.
Services
Live Event Streaming
Our most basic (and original) service is live streaming client events to our browser-based software platform. With our proprietary portable production system, just one technician can provide high-quality video and audio with our robotic HD cameras and built-in audio mixer—all with minimal setup and breakdown time. Our live event streaming platform offers a custom viewing portal with client branding, along with many features and redundancies to ensure success. Some of the features include:
Live multi-language subtitles with CART service
On-screen graphics and PowerPoint/media embedding
Full HD recording
Viewer questions, polling, testing, and verification
Registration and live agendas
Monitoring and control panels for hosts
Geographic viewing statistics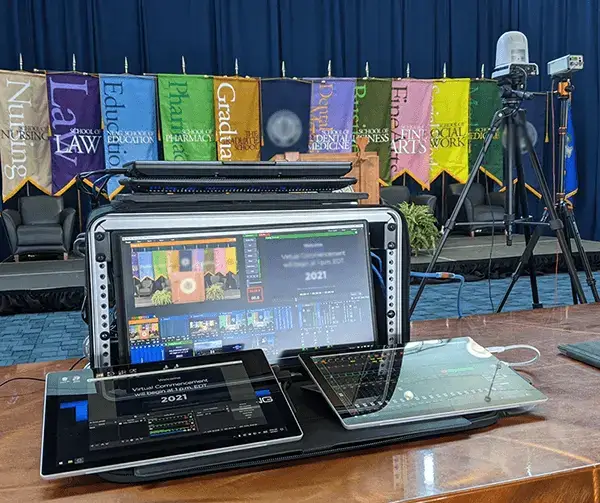 Content Management
Our proprietary software platform offers a variety of content hosting and management options, including:
Password-secured or public on demand viewing
Integrated and verified transcripts
Agenda and program indexing
Pay-per-view options
Viewer verification for continuing education
Document and reference management
Geographic statistics of archived viewing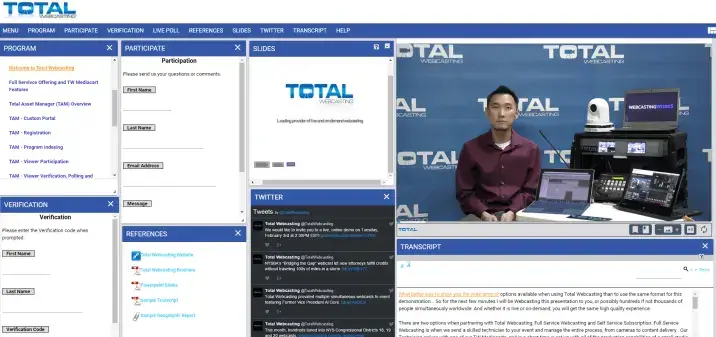 Hybrid Meetings
We integrate our webcasting platform with Zoom to offer a seamless hybrid meeting experience. This gives presenters a familiar conferencing service. Plus, it allows us to deliver hybrid meetings with all the features and capabilities of our live event streaming service described above. With our integrated solution, we also control camera shots and various presentation views for both the Zoom session and the live stream throughout the meeting.
We started offering hybrid meeting solutions in 2017, and we regularly support hybrid meetings for many clients today. This is where our expertise and comprehensive platform solutions really shine. Our experience has taught us not only how to operate a high-quality meeting, but also how to help clients and their presenters prepare. Want to get a better idea of what our hybrid meetings look like? View our hybrid meeting infographic.
About
Who we are
At Total Webcasting, we help event planners reach a remote audience without disturbing the in-person audience or breaking the bank.
Search for webcasting companies and you'll find that most require multiple crew members operating clunky, intrusive equipment, and they often provide only part of the webcasting service themselves. This is the problem we set out to solve. We are a true all-in-one webcasting company, with our proprietary hardware solution (the Total Webcasting Mediacart™), our webcasting and content management platform (the Total Asset Management system, or TAM™), and a proven workflow developed from over 15 years of experience. And we can provide our service with one professional technician on a six-foot table with a couple small robotic cameras at a fair price.
Since our founding in 2007, we have continuously improved our webcasting technology. We have updated TAM year after year, improving the software and adding features like our proprietary, multilingual Speech-to-Text (STT) encoder. We also shrunk the Mediacart from a 5-foot-tall metal cart that made travel possible but not easy, to a system that is mobile, lightweight, and small enough to fly with.
Who We Serve
While we can work with almost any client in any location, we mostly provide webcasting services to universities and governments in the Northeast US, and we designed our hardware and software solutions with these clients in mind. We offer the capabilities and video quality of an industry leader, but without all the flash. And because of our expertise and in-house technology, we offer the best chance for success. These qualities make us well-suited to provide our webcasting services to university and government event planners, who are often more concerned with effectiveness and efficiency than with extravagance.
The bottom line: if you want big camera crews and a large production to make your audience members feel like they're on the red carpet, or you want a big company name with a big price to show your board how much you value them, we're not your company (but we'll happily point you to someone who is). But if you want quality, efficiency, and the best chance for success, then we're the ones you want to talk to.
Locations
We have become a go-to webcasting service provider for many clients in the Northeast US. Our highly-trained technicians are located in New York State, from just outside New York City to North of Albany, allowing us to easily serve clients in regions such as:


New York City Metro Area

Columbia University, New York, NY: for over 10 years, we have provided Columbia University with webcasting and hybrid meeting services at their Morningside Heights campus in Upper Manhattan. These events range from small campus events with guest speakers to larger special events. In 2012, we webcasted then-President Obama's commencement speech at Columbia's Barnard College.


Dutchess County Legislature, Poughkeepsie, NY: the Dutchess County Legislature has used our webcasting and content management services to provide public access to all of their committee and legislative board meetings since 2008. During COVID-19, our webcasting services helped the legislature continue operating virtually.




Albany Metro Area

New York State Department of Health, Albany, NY: we have been providing full-service webcasting for live and hybrid DOH meetings since 2010. These are typically public meetings or "grand rounds"—an educational series hosted by DOH. While some of these meetings take place at the Empire State Plaza in Albany, we have traveled all over New York State supporting DOH meetings.
New York State Attorney General's Office, Albany, NY: Total Webcasting is the exclusive webcasting provider of New York State's continuing legal education content. As with DOH, we have traveled all over New York providing services for the Attorney General's Office, but many events take place at the Empire State Plaza. More recently, we have helped the office shift a lot of their continuing education operations to completely virtual.




Hartford Metro Area

University of Connecticut, Storrs, CT: we work with UConn's Events and Conference Services team across their Storrs, Avery Point, and Hartford campuses. We provide webcasting and hybrid meeting services for many UConn events, including their commencement series each year. During COVID-19, we helped them host a variety of virtual and hybrid meetings from Connecticut.
While our clients are primarily based in the Northeast US, our now-more-mobile Mediacart allows us to work anywhere with a road, electricity, and internet (or even without internet if all you need is on demand video). We have provided our webcasting services in cities such as Washington DC, Chicago, and even London, so we encourage you to reach out even if you are not in our typical service area.